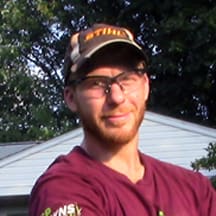 Meet the Owner
Born and raised in Allentown, Pennsylvania. Corey has over 15 years of professional experience in the lawn care industry. As a native to the Lehigh Valley, Corey has excellent insight into the area's climate and weather tendencies, and understands proper maintenance schedules needed to manage all property types throughout the surrounding areas.
We treat your property like it's our own!
We are knowledgeable in our craft and will methodically maintain your property to promote healthy growth and longevity. We avoid wear on high traffic areas by alternating mowing pattern and direction, and by paying close attention to variables such as weather conditions which often can cause dry burnt patches from excessive sun exposure, shady areas with low sprouting potential for new seedlings, and damp low level soft spots in the ground from water saturation. Each instance requires proper assessment beforehand in order to determine blade cutting length and which type of equipment is warranted for use to safely manicure your land.
Representation matters to us. We show up to perform quality work day in and day out. We are friendly, courteous, and approachable. We encourage open communication, allowing us to help you present your lawn and property in a confident manner in all the ways you envisioned.
We are fully insured so you can have the peace of mind your property is in responsible, caring, and trustworthy hands.
No contracts means you have full control over your seasonal needs. In a circumstantial society with an ever changing economy, we realize lifestyle adjustments can be needed at short notice. Without lengthy contracts that can hold multiple stipulations and disclaimers, services can be added or subtracted at any time.
Risk free satisfaction guaranteed. If a client isn't fully satisfied, neither are we. Until all expectations are exceeded we will return to fix any work.
We offer convenient billing. Not only can payment be delivered via cash or check, we also accept credit cards.
We pride ourselves on our workmanship and customer service.  We promise you won't find a better experience.